by Hans Schou 2010-07-18
I got some "Lego bricks" from Best-lock, which is a clone to LEGO and compatible with LEGO. and here I will give my first impression of how they look and feel.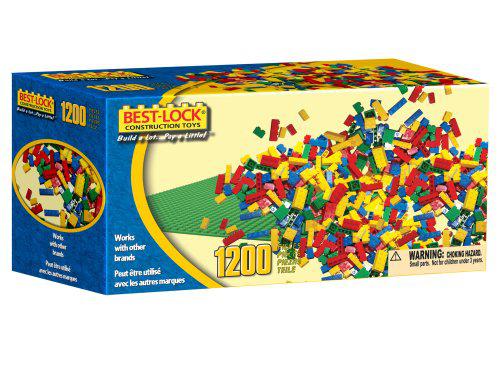 BEST-LOCK® Construction toys. 1200 pcs. Build a lot... pay a little. Works with other brands.
Lock
Best-lock locks very well with both Best-lock and LEGO. I do not have an apparatus to messure it so I can just say that they feel good, and not too strong. The name "best lock" should indicate that locks harder than Lego and maybe they do, but I am not sure. It is almost the same.
Colour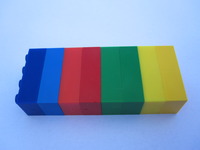 The picture above shows Best-lock from the left, followed by Lego.
Best-lock blue is more dark than Lego.
Best-lock red is a bit more pale and transparent than Lego.
Best-lock green and Lego green is almost the same.
Best-lock yellow is more pale and transparent than Lego.
Mould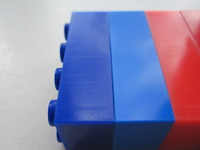 Two of the Best-lock bricks which is shown here, has moulding scratches on the side. It is the blue one and the red one. This happens when the moulding form is worn, and the scratches comes when the brick is pushed out of the form.
I am not an expert in LEGO so you might also see these scratches on LEGO bricks.
Pictures
Pictures below shows Best-lock to the left and Lego to the right.
As you can see at the close-up of the yellow brick, there is no brand identification on the brick from Best-lock.
Weight

| Items | Gram |
| --- | --- |
| 4 Best-lock | 10.0 |
| 4 Lego | 9.2 |
| All 8 | 19.2 |
Links
---
Powered by: Linux, Apache, Hans Schou